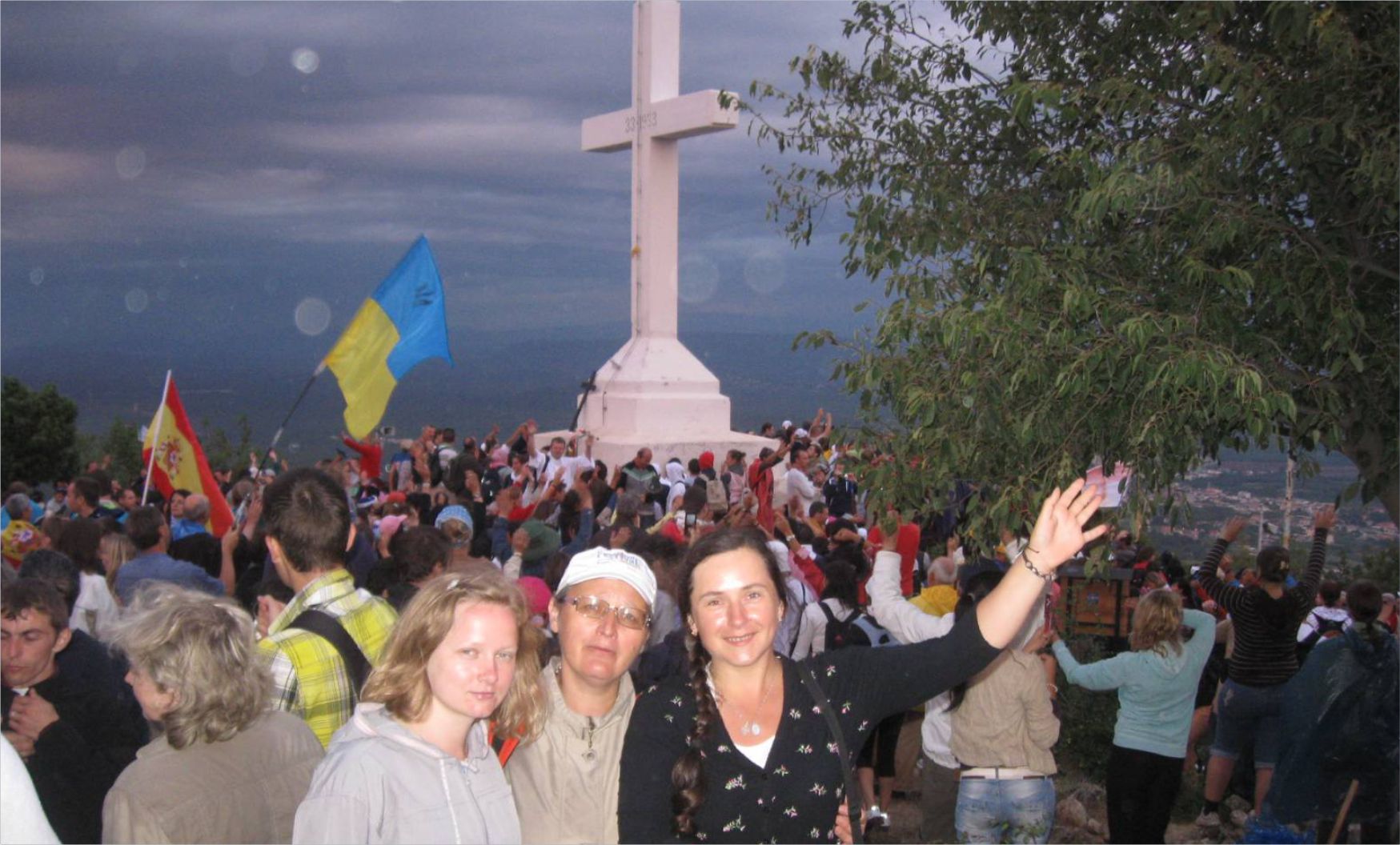 I first heard about Medjugorje thirteen years ago from a friend with whom I used to meet from time to time.  We shared the joy of discovering God's work in our lives. The invitation to visit this present-day place of Our Lady's presence resounded in my parish community, and the very next year I there with the Ave Maria Congregation Choir.
It was obvious that we went to Medjugorje along with musical instruments (three violins and my bandura – a traditional Ukrainian musical instrument), because we really wanted to play at the Mladifest. Unfortunately, they we were not allowed to play. We learned a very important lesson in humility. And all the following years until 2019, when we played together, we never forgot it. In our work, we learned to listen to God, to go where He calls us, where He needs us, and not to go forward in disobedience. We prayed together and went on pilgrimages together. Many of our performances, especially after our second visit to Medjugorje in 2014, were done in the spirit of Our Lady's messages. We read them in nursing homes, hospitals, remand prisons, the parish church and other churches. We played during adorations, we sang Medjugorje and Taizé songs.
In Medjugorje, the pilgrims always go to pray to the grave of Father Slavko Barbaric. When I was praying there in 2014, an idea crossed my mind. I felt I wanted to do something for Medjugorje. I sincerely asked Father Slavko to help me with that. In the evening Olinka from the Light of Mary Community approached me. We started talking. She asked me what was my job and when she heard the answer she was delighted, "Oh, I am in such a need of a Ukrainian philologist." Since then, I have been helping the community with translations of various texts from Russian, but the moment that touches me the most is when I receive Our Lady's message to proofread. I know that there are so many philologists in Ukraine who are better than me and I am entrusted with such a responsible task. It is important to be careful not to interfere in any way with the text of the message, to compare it carefully with the Croatian original and other Slavic alternatives, to check the meaning of words in dictionaries, to consult … Sometimes even tears come to my eyes when I realize how small I am touching something so big.
On the 40th Anniversary of the Apparitions of Our Lady, I translated Mirjana Soldo's book My Heart Will Triumph. I started translating it at the end of the school year when I was busy at school, but despite the sleepless nights, I was happy.
I once read in a book about Medjugorje that the visionaries had their prayer groups with which they prayed from the very beginning of the apparitions. I thought how happy these people were because they could pray together with those who see the Mother of God. And then one day I was offered to pray in a prayer group with the visionary Ivan. I just bowed before the Lord in gratitude because He had again fulfilled the desire of my heart.
After returning from Medjugorje in 2014, I asked Our Lady to help me bring my husband here. And She came up with an amazing way. In 2018, the Light of Mary Community invited the two of us to a spiritual retreat for married couples. It was something special when my husband said to me on the last night before we went home: "You know, I wanted to make you happy so I went to confession. Our priest was on his way to the hotel and I asked him if he could hear my confession. He did it while walking to the hotel." My husband had not received the Sacrament of Reconciliation for many years, but his heart was touched right here in the "confessional of the world," as Medjugorje is called.
Medjugorje is the place where I have a strong sense of Our Lady's presence, of Her maternal tenderness, where I receive love and peace and I want to bring them to the world.
Thank you, Mom!                                                                                                         
Liliana, Ukraine