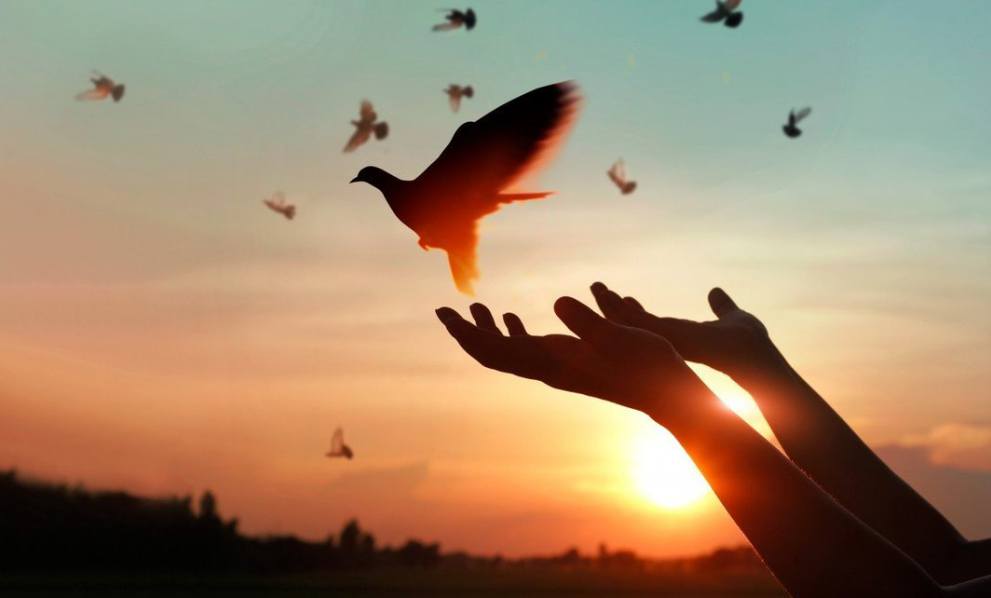 From the book Give Me Your Wounded Heart. Confession Why? and How? by Father Slavko Barbarič (1946 – 2000)
What causes wars, and what causes fightings among you? Is it not your passions that are at war in your members? You desire and do not have; so you kill. And you covet and cannot obtain; so you fight and wage war. You do not have, because you do not ask. You ask and do not receive, because you ask wrongly, to spend it on your passions. Unfaithful creatures! Do you not know that friendship with the world is enmity with God? Therefore whoever wishes to be a friend of the world makes himself an enemy of God. Or do you suppose it is in vain that the scripture says, "He yearns jealously over the spirit which He has made to dwell in us"? But He gives more grace; therefore it says, "God opposes the proud, but gives grace to the humble." Submit yourselves therefore to God. Resist the devil and he will flee from you. Draw near to God and He will draw near to you. Cleanse your hands, you sinners, and purify your hearts, you men of double mind. Be wretched and mourn and weep. Let your laughter be turned to mourning and your joy to dejection. Humble yourselves before the Lord and He will exalt you. (Jas 4:1-10)
Be merciful, even as your Father is merciful. Judge not, and you will not be judged; condemn not, and you will not be condemned; forgive, and you will be forgiven. (Lk 6:36-37)
Then Peter came up and said to Him, "Lord, how often shall my brother sin against me, and I forgive him? As many as seven times?" Jesus said to him, "I do not say to you seven times, but seventy times seven." (Matt 18:21-22)
Prayer
Good and merciful Heavenly Father, Your Son Jesus Christ teaches me to forgive all offences and to ask forgiveness for the offences I committed against You and against others. He teaches me to forgive wholeheartedly, including my enemies, because if I do not forgive others, if I do not ask forgiveness, You cannot forgive me either.
Father, thank You for the possibility of forgiving and being forgiven, and for the opportunity of making a new start with You and with others. Thank You for not closing the door when we knock and invoke Your mercy. Blessed and praised are You for the mercy that you have shown me so far, and that You are always ready to show me. Jesus, teach me to forgive if I want to receive forgiveness! Strengthen my love, and I will be reconciled with You and with others, and I will be at peace.
Mary, you always call me to peace and reconciliation. Thus, you call me to forgive and ask forgiveness. Teach me to do what your Son, my Saviour, asks me to do.
Jesus, I admit that I struggle to forgive. That is why I quarrel and live in misunderstanding with You and with others. Because of the refusal of reconciliation, my heart is filled with envy, jealousy, slander, bad words and bad acts. I have offended others and others have offended me. My heart is wounded and I have wounded other people's hearts because I was not ready to forgive. Because of unforgiveness, I spread disorder in my life, in my family, in my community. I suffered a lot and I suffer when a conflict remains. You know how hard it is for me to forgive. That is why, before receiving Your forgiveness through the priest, I implore You to give me strength to forgive wholeheartedly all those with whom I am not at peace, from whom I am separated by a wall of hatred, envy, jealousy and pride. Give me the strength to approach them and reach out to be reconciled with them.
Forgive me for not taking reconciliation seriously. I found excuses, saying that it was the fault of others, and that they should come to me and seek reconciliation, because they offended me first. I am sorry to see that I was so often led by selfishness and pride, and not by humility and the desire for peace. Please forgive me! Purify my heart from all sinful attachments to people and things. Make me free and I will joyfully and in peace celebrate the power of Your mercy and forgiveness.
I pray for all those whom I have offended. Give them strength to forgive me, so that we can be reconciled. Father, make us similar to You through forgiveness.
I pray for all unreconciled families, where parents do not forgive children, where children are merciless towards their parents. May spouses always have the strength to forgive each other and live together in peace. I pray for all those who are now at risk of divorce because they cannot reconcile. I pray for divorcees, that they may be reconciled. I pray for children of divorced parents, that they may not remain in hatred and the inability to forgive their parents who hate each other, and by their hatred and inability to forgive each other, they hurt their children.
Look on peoples and systems that are unable to find the path to peace because they do not know You and have no strength to forgive. May they all reach out to make peace in our world.
Queen of Peace, Mother of goodness, love and mercy, by your maternal kindness intercede for us, your children, who are unable to reconcile. Mother of the Church, by the power of forgiveness, obtain peace for the whole Church, to all the communities in the Church. Through your intercession, may all Christian churches and all religions be reconciled!
Good Jesus, You have revealed to us the Father's mercy. You have called us to be merciful and to forgive. Reflecting on Your words, I beg You to grant all necessary graces to all. Let PEACE come, let everyone know how to forgive others their trespasses as You want the Father to forgive us through You.
Jesus, I want to forgive and reconcile. Send me Your Holy Spirit. Enlighten me and help me. Amen.