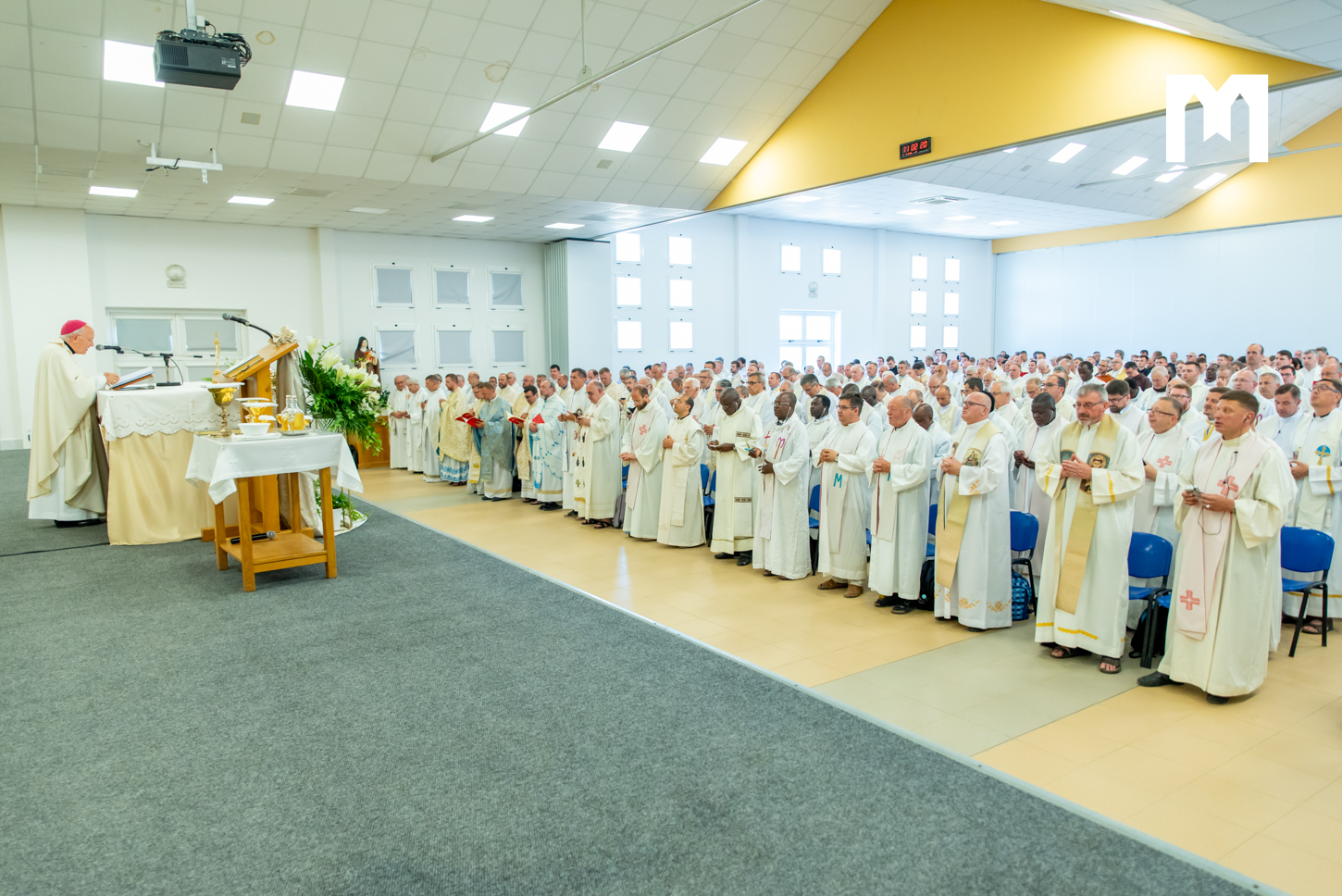 The 26th International Spiritual Retreat for Priests was held in Medjugorje. It began on Monday, July 3, with an evening Holy Mass at the White Dome of St. James' church.
The lecturer at this spiritual retreat was Fr. Miljenko Šteko, a member of the Herzegovinian Franciscan Province of the Assumption of the Blessed Virgin Mary, who previously served as the Provincial and the President of the Union of Friars Minor of Europe, and also worked pastorally in Medjugorje… Today he is the guardian of the Antonianum International Institute in Rome.
He celebrated Holy Mass at every evening during this spiritual retreat, held under the theme: "Here are my mother and my brothers!" (Mt 12, 49).
About 300 priests from: Lithuania, Moldova, Latvia, Ukraine, Ivory Coast, France, Senegal, Congo, Burkina Faso, Gabon, Belgium, Togo, Germany, Austria, Slovakia, Switzerland, Italy, Romania, India, the USA, Malawi, Denmark, Puerto Rico, Peru, Colombia, Spain, Mexico, Bosnia and Herzegovina, Croatia, Slovenia, Serbia, Poland, Russia and Hungary participated in this spiritual retreat for priests which lasted until Friday.
"Here tonight you see priests gathered from different parts of the world in a slightly larger number. We came for the spiritual retreat. We will spend a few days here in Medjugorje, at Our Lady's school. We want, with Our Lady's intercession, to penetrate deeper into the mystery of our priesthood. We want to weigh our priesthood on the scales of the Lord's words. We want to examine ourselves if we are fully Jesus' brothers, what do we lack, what hinders us from being completely His? We want to repent for our mistakes, and we want to continue to build and complete everything that we have started building well on the solid foundations of the Gospel at the right time. These days we will try to be fed more solidly and richly on the words of Jesus than on physical food. These days should bring us spiritual refreshment.
I thank all the parishioners who welcomed the priests into their homes, and I ask the entire community gathered here in Medjugorje and those who will be listening and watching us in the distance to pray for spiritual vocations, to pray for priests and religious monks and other people dedicated to God. This world is so wounded that we need spiritual persons, but without the fervent prayer of the whole Church we will not have enough spiritual vocations, but not only spiritual vocations, because that is not enough. There should be enough holy, sacred and self-sacrificing spiritual vocations, priests, monks and nuns," said Fr. Miljenko in his homily at the first evening Holy Mass, emphasizing that "God is Lord of everything, including spiritual vocations, but he did not want that the number and quality of spiritual vocations depend not only on his goodness and generosity, but also on our prayer". He also highlighted Medjugorje as an oasis for which only dear God knows how many vocations were born there and how many felt the call here in their hearts.
During this spiritual renewal, in addition to the lectures and Holy Masses, the priests participated in prayer of the Rosary on Apparition Hill, the Stations of the Cross on Cross Mountain.
"This morning we gathered again, we priests who are at this spiritual retreat and we made our way to Cross Mountain, and we have just arrived. And as they say, the world is best seen when you are on a hill, that is, when you are on a cross. While we were climbing, normally each of us felt some pain, certainly some suffering, but this is now a great grace that we are all here, especially that we will now have the grace that we will all be able to reconcile with God and return to the people who love us and to whom God sends us," said Fr. Anto Radoš, priest of the Franciscan Province of Bosna Srebrena.
"We are very happy that we can be here at the 26th International Spiritual Renewal for priests and that we are here from 35 countries of the world. We are glad that every year we can host you all here, that is, to be at Mary's school, simply to take time for ourselves in order to renew ourselves and so that we can move on with a renewed spirit to where we are assigned, to the people whom we are sent to serve", said Fr. Zvonimir Pavičić, parish priest of Medjugorje.
The priests also visited the grave of Fr. Slavko Barbarić, as well as other places of prayer in Medjugorje, and the spiritual retreat ended with a Holy Mass celebrated by the Apostolic Visitor for the parish of Medjugorje, Archbishop Aldo Cavalli.
"Dear priests, I thank you for coming to this holy place to renew your life. I sincerely thank Fr. Miljenko Šteko, and the respected parish priest, Fr. Zvonimir Pavičić, for their contribution to these spiritual exercises. I would like to thank all the people who dedicated their knowledge and time to make this all go well. From the bottom of my heart, I thank the families of the parish who generously and in the quality way hosted priests from many parts of the world", said Msgr. Cavalli.
Soon a pilgrimage will be held in Medjugorje on the occasion of the Third World Day of Grandparents and the Elderly, which will be held on Sunday, July 23, 2023 under the motto: "From knee to knee is His goodness" (Lk 1, 50). The patron saint of the parish of Medjugorje, St. James will be celebrated on July 25, and a day later the 34th Youth Festival begins, which will last until the end of July.